TRANSEARCH Celebrates 20th Anniversary in Malaysia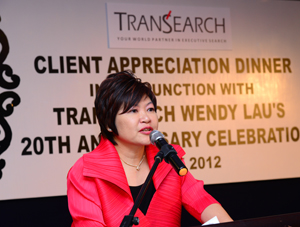 TRANSEARCH in Malaysia recently celebrated it's 20th anniversary as a sustained and successful presence in the executive search industry.

More than 100 guests attended an anniversary dinner held in Kula Lumpur with executives from the automotive, manufacturing, consumer, pharmaceuticals, technology and financial sectors to celebrate this momentous occasion with its Managing Director Wendy Lau and her team.

"The journey through the past two decades has been incredible, with many highs and lows. While we faced the challenge of having to educate our clients on the executive search concept in the early days, we are now proud that many have understood the need for our services and have stayed with us through the years," said Lau.

Lau added: "The partnership with our clients has been fruitful for all parties and in many cases, strong and enduring friendships have been forged."

In recognition of her perseverance and growth in business, Lau was recently named one of 15 "Most Promising Entrepreneurs" in the prestigious 2012 Asia Pacific Entrepreneurship Award organised by Enterprise Asia.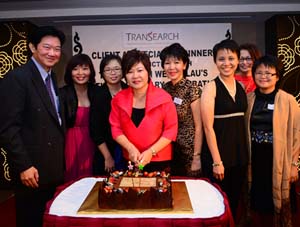 Highlights of the evening included long service awards for Principal Consultant, Ms Elizabeth Yeo, (20 years) as well as Ms Yong Soo Sheng, Ms Lee Ee Leng, Ms Stephanie Teh for 10 years each.

Mr Andrew Tan, the former Regional Managing Director of Jebsen & Jessen, was also recognised with an award in appreciation of his confidence in the firm and for being their very first client 20 years ago.

For entertainment, one of the grand dames of our local performing arts, Jo Kukathas, had everyone in stitches with her surreal views on Malaysian life.

The photos show top left: Wendy Lau (addressing the audience) and bottom right Bottom: from Left to Right: CF Lee, Stephanie Teh, Amelia Ching, Wendy Lau, Elizabeth Yeo, Lee Ee Leng, Anna Churme, Yong Soo Sheng.

For more information please contact the This email address is being protected from spambots. You need JavaScript enabled to view it.