Olga Santini Parrella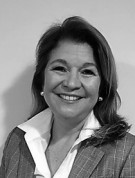 USA
Infinity at Brickell
60 SW 13th Street
Miami, Florida 33130


+1 305 358 8822

+1 305 358 8780

This email address is being protected from spambots. You need JavaScript enabled to view it.

Olga is a Consultant with the Miami office where she is establishing the firm's Legal Executive Services Division to support clients in the recruitment of attorneys as partners, in-house counsel and law firm associates, while working alongside the financial services team to further expand the Financial Services Division.

Prior to her career in Executive Search, Olga was the Managing Director of a business that provided legal structures used in Foreign Estate & Tax Planning, corporate para-legal services, translations as well as corporate searches in the United States. Olga's clients included major international and global Banks, CPA's, Law firms and Real Estate firms. Previously, Olga worked at Banco Nacional de Panama in Panama, Bank of Boston in Boston and UBS in Miami, Florida.

She is a Panamanian Attorney with a Degree in Law and Political Science from Universidad Santa Maria in Panama and did post graduate work at the Universidad Complutense in Madrid, Spain specializing in Corporate Law, Trust and Estate planning. She is certified by STEP-Society of Trust and Estate Professionals, and has a Certificate in Comparative Law from The Southwestern Legal Foundation in Texas.

She is fully Bilingual: English/Spanish with working knowledge of Italian and French; her hobbies include travelling the world and studying comparative religions.
Specialisations