Nathalie Alexandre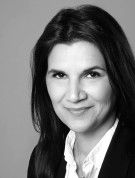 France
20 rue Vignon
75009 PARIS
France


This email address is being protected from spambots. You need JavaScript enabled to view it.

Nathalie leads the IT services, Digital and Media practice. She brings 15 years of experience in IT services, software and CRM, both with private French as well as foreign multinationals.

Prior to working in executive search, Nathalie was Deputy Vice President of the Integration Systems Division at T-Systems France (IT subsidiary of Deutsche Telekom). Before that, she spent 10 years with Business & Decision, a consulting and systems integration group, leader in CRM/BI and major player in e-business. She began her career with the Chamber of Commerce (CCI) of Paris as Business consultant supporting high technology start-ups in their fundraising.

Nathalie holds an Executive MBA from HEC Paris, is certified Luxury Business Management from SDA Bocconi and has a Master's Degree in Economics from Sorbonne University.

Specialisations