Jana Molekova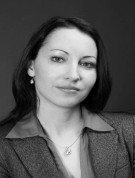 Czech Republic
Na prikope 1047/17
110 00 Praha 1



+420 792 366 060

This email address is being protected from spambots. You need JavaScript enabled to view it.

Jana is an executive search consultant in the Prague office specialising in the financial services industry.

Prior to joining TRANSEARCH, Jana spent 10 years in the banking industry with focus on investments and financial markets. She started her professional career working for CSOB Bank (part of the Belgian KBC group) and later for the investment section of the Dutch insurance group NN where she specialised in relationship management with key accounts, distribution management, sales and marketing.

Jana graduated from the Faculty of Social Sciences at the Charles University in Prague and holds a Master's degree in Economics and Financial Markets. She also spent one year at the Maastricht University in the Netherlands where she studied Management and Marketing. Jana lives in Prague and speaks fluently Czech and English.

Specialisations