Laszlo Godor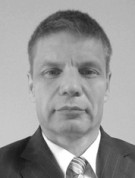 Hungary
Toldy Ferenc u.17
1015 Budapest



+36 1 212 87 43

+36 1 487 08 41

This email address is being protected from spambots. You need JavaScript enabled to view it.

Laszlo is an executive search consultant in the Budapest office and has more than 3 years' experience in the recruitment and executive search industry. He has a strong focus on the Industry (in particular food processing, transportation, logistics) and the technology sectors.

Before entering the executive search industry, Laszlo was founder, owner and manager of Team Event Security and Investigations Ltd in Hungary. Besides being a consultant, he has managed the Hungarian Parasport Federation as President since 2005.

Laszlo holds a MSc degree, Master of Engineering and Engineering Teacher, from Budapest University of Technology and Economics.

Specialisations