Ketaki Gupte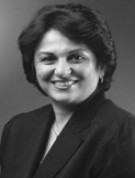 India
177, Mehrauli Gurgaon Road
Sultanpur
New Delhi 110030


+9111 4105 1234

+9111 4101 7770

This email address is being protected from spambots. You need JavaScript enabled to view it.

Ketaki Gupte is a Director at TRANSEARCH India with a strong focus on consumer, media, advertising, marketing and HR.
Prior to joining TRANSEARCH, Ketaki owned Reflexion Inc., in partnership with her husband, offering services in the area of senior level recruiting, leadership development and coaching.

For 8 years, Ketaki was a Senior Client Partner and Managing Director of Korn/Ferry International's Mumbai office, and Leader, Consumer Markets, India. Leading a team of 10 members, Ketaki was responsible for over 200 senior level placements across India.

Prior to joining Korn/Ferry in 2001, Ketaki spent more than two decades holding various positions within JWT. In her capacity as senior vice president and executive media director, Ketaki was responsible for advertising billings of over $250 million. As head of the largest media business, she is credited with the setting up of Fulcrum, one of the first Agency-Of-Records for Unilever in India, and other initiatives like Media Vision and Portland Outdoor Services and has earned a reputation of being one of the best media professionals and leaders in India.

She is a member on the Board of Directors of several companies.

Ketaki holds a Masters degree in Statistics from the University of Pune, India. She is a certified mbti practitioner and behavioural coach.

Specialisations