Linda Wang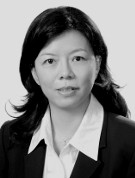 China
9/F, Eco City, 1788 Nanjing Road W.

Shanghai 200040


+86 21 2231 0580

+86 21 6103 7070

This email address is being protected from spambots. You need JavaScript enabled to view it.

Linda has been active in executive search in Mainland China since 2004 with Horton International before coming on board TRANSEARCH. Her focus is on the industrial sector (Automotive, Maritime, New Energy and Home Appliances), specialising on C-Level, President, Director, General Manager and their direct functional reports.

Prior to executive search, Linda was a Program Team Leader at Tyco International in Houston, USA and Project Manager at Rolls-Royce International's Beijing Office, responsible for industrial collaboration projects. Linda started her career in the China Aero-Information Center in Beijing, a state-owned "think tank" organization, specialising in synthesis and analysis of industrial and technological information in the aerospace and aviation industry.

Her education includes an MS from Georgia Institute of Technology, USA, LLB from China University of Political Science &Law, China and a BS from Beijing University of Aeronautics & Astronautics. Linda speaks Mandarin and English fluently.

Specialisations