Edgar Kirchmann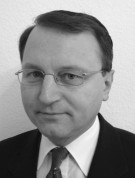 Germany
Wilhelm-Leuschner-Str. 29
60329 Frankfurt
Germany


+ 49 69 9550 140

+ 49 69 9550 1433

This email address is being protected from spambots. You need JavaScript enabled to view it.

Dr. Edgar Kirchmann is recognised as an outstanding search professional with more than 15 years' experience in executive search. He focuses on senior level positions in sales & marketing, research & development, services, infrastructure, supply chain, human resources and general management. Most of his searches are executed for international clients through global master agreements. Edgar started his executive search career in 1999, when he was asked to join an executive search group. In 2013, he joined TRANSEARCH as an International Partner.

Edgar's previous management experience includes nearly 10 years at Asea Brown Boveri (ABB) where he started as an Assistant to the Management Board. His final position was that of the youngest CEO of a subsidiary across the group.

He studied Industrial Engineering at the University of Karlsruhe and obtained his Ph.D. from the Kiel University and the MIT in Boston. In parallel, he became a Master of Science in eBusiness. Edgar has written numerous internationally accredited publications on the topics of human resources management, organisational development and innovation management. He is member of the Board of Rotary.

Specialisations