Gulpreet Kaur Chawla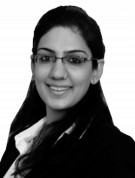 India
177, Mehrauli Gurgaon Road
Sultanpur
New Delhi 110030


+9111 4105 1234

+9111 4101 7770

This email address is being protected from spambots. You need JavaScript enabled to view it.

Gulpreet is a Principal and a member of the Life sciences practice. She has more than 13 years' experience in leadership recruitment and her areas of expertise include Healthcare, Medical Devices, Pharmaceuticals and Diagnostics. She has significant international search experience from the UK, Belgium and other countries.

She started her executive search career as a researcher and rapidly moved on to become an executive search consultant managing key client relationships and advising on issues relating to talent and leadership recruitment. She has worked for prestigious clients such as Novartis, Ranbaxy, GE Healthcare, Medtronics, J&J, Max Hospitals, BD India etc.

Prior to her executive search career, she undertook Market Surveys and Research Projects for International Pharmaceutical companies.

She holds a Bachelor of Engineering degree in Computers and is a University topper in MBA - Biotechnology from Pune University. She has been trained in Biocon India and Karl Storz Endoscopy in Market Research.

Specialisations